The weather is slowly starting to get chilly which means it's time to start pulling out the sweaters. However, a cool twist on the sweater is to lengthen it down into a dress. Sweater dresses have a cool, casual, and chic feel and can be worn in so many ways! Check out my favorite sweater dress looks below:
Hailee Steinfeld
Hailee Steinfeld is always taking a fashion risk! Hailee's sweater is slightly fitted while still having a casual slouch to it. The fun part is obviously the "eye see you!" print which gets a lot of positive attention. No matter what you're wearing, an eye catching print is always super cool if you rock it with confidence!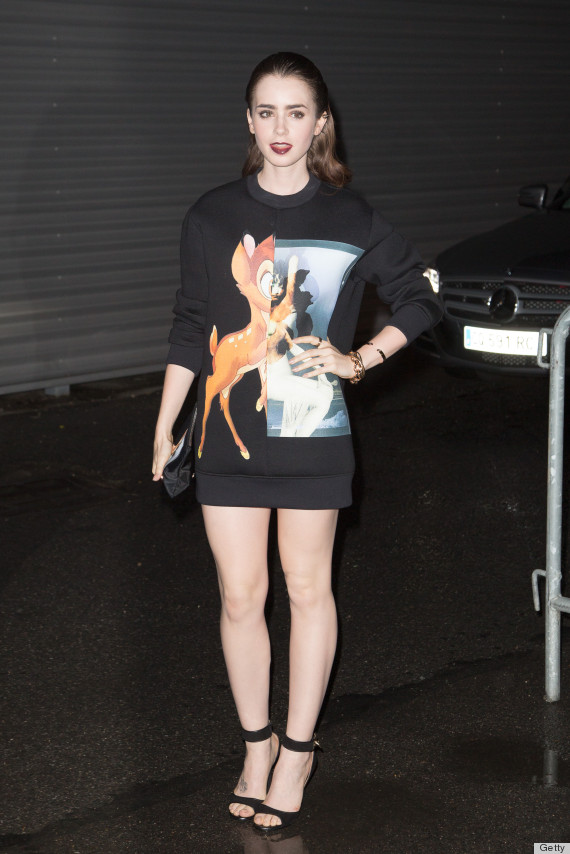 Lily Collins
Lily Collins legs go on for miles in this short, dark sweater dress. However, the clothing and accessory styling is not what makes Lily's look, it's the beauty look. The slicked back hair gives a fierce and feisty attitude while the dark lipstick keeps it chic and on trend. Remember, you can always pair the look with a fun pair of printed, sheer stockings to keep your legs covered.
Selena Gomez
Keep up with the latest fall trends by pairing knee high socks with your boots! Selena is super casual in this slouchy sweater dress. Selena stays warm with of course, the warm texture of the sweater, but the knee highs act as a type of stocking. Also, if your nervous the sweater may be too short, just pair shorts, a skirt, or any other garment underneath.
Which is your favorite sweater dress look?