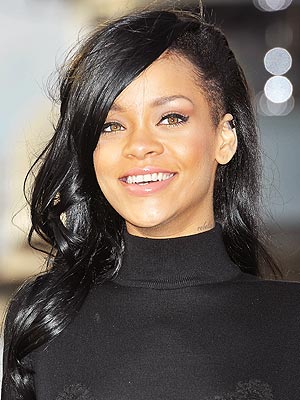 Rhianna
Cassie Ventura
I don't know about you, but I think Rhianna and Cassie's one side shave is so cool, specially since the other side has such long, luxurious hair. No matter how much I like their hairstyles, I could never put a razors to my hair. Not going to happen, ever! But since I don't want any commitment to this hairstyle, I have found a trick to getting this look by using gel, a brush and comb, and bobby pins or clips.
Begin with hair that is not too clean, you need a little bit of greasiness in your hair for the style to work.
Part your hair in the size that you want your "shaved" section to be and gather the remaining hair into the ponytail holder.
Brush down the loose hair and you can either put tight braids to make the hair lie down or just slick everything back with gel.
Pull the braids or slick hair down and back and secure it with lots of clips and bobby pins that match your hair color.
Release the section of hair from Step 2 and blend the hair and add volume at the top to contrast it from the "shaved" section.
You can wear this look with waves, curls, or pin straight on the other side, whatever suits you. This look is perfect for girls like me who are not ready to take the risk of a razor!