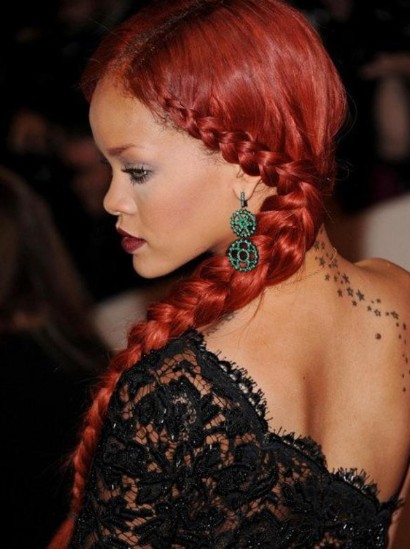 Rihanna's rapunzel like braid is so majestic and gorgeous, you could even mistake it for a mermaid braid! This braid works for medium to long hair and is great for when you want to jazz up your look. It is also perfect for summer since it will help pull your hair out of your face. All you need is to know how braid and french braid, a comb and brush, a ponytail holder, and bobby pins.
Begin by detangling and brushing your hair. It's better if you use a side part, but a middle part will work too.

Take one side and begin french braiding to the edges of your hair until you reach the nape of your neck, some hair may not be braided. Secure the braid with a bobby pin.

Take the remaining hair and french braid to the edge of your hair until you reach a little past your ear meeting the other braid. Secure with bobby pins.

Bring both braids together and mix the loose hair together creating a side braid. Secure the braid with a ponytail holder.

Brush the hair down to make it smooth and put on a cute pair of earrings to make the look pop!