Slouchy sweaters paired with skinny jeans is the perfect outfit for a lazy day. Slouchy sweaters are so easy to just throw on over a tank top or cami and feel totally casual. Of course the slouchy sweater makes you feel nice and comfy, but it can also give off a flirty and fun feel. If you place it a little off your shoulder to show some skin it gives off a cute and flirty look, while paired with skinny jeans it adds an even more girly look. Lea Michele, Kate Bosworth, and Selena Gomez, all pictured below, show how to rock a slouchy sweater in different styles perfect for a lazy day.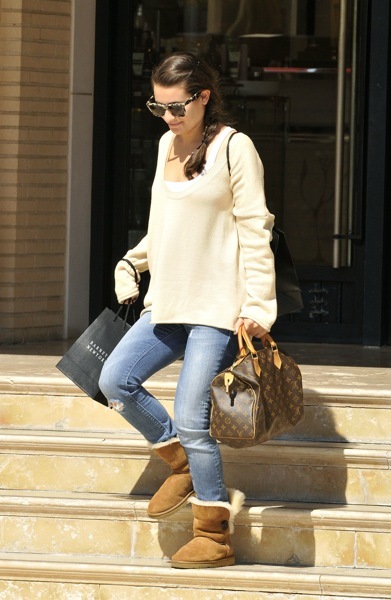 Lea Michele
Lea Michele looks so casual and laid back in her slouchy sweater. I love how she stuck with the neutral brown color scheme with cute patterned sunglasses. Her side braid is also a great addition to the look and keeps it very "girl next door". 
Kate Bosworth
Kate Bosworth is always looking chic and fashion forward. Kate paired her slouchy sweater with patterned skinny jeans and a nice pair of brown wedges. The patterned pants keep the look chic and unique while the heels add the more trendy edge to the look.
Selena Gomez
Selena Gomez is sporting a look that I personally love to wear. The combat boots add major edge to the look as well as darker washed jeans. The holes and distressed parts of the jeans add even more of an edgy aspect to the entire look. Also, chunky jewelry like Selena's adds the girly and punky vibe to the entire outfit.