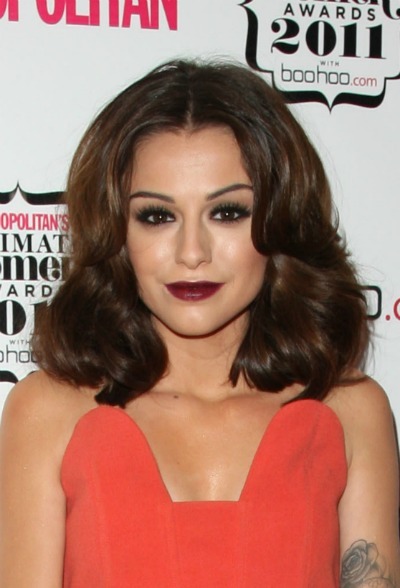 So I'm guessing you may have seen or at least heard about the latest fall beauty trends for 2012. Dark, rich lips, bold brows, and played up neutral shadows are all the rage this fall. Fall is definitely the season for all the brunettes and dark haired mavens out there! Demi Lovato and Cher Lloyd are both embodying fall's beauty trend and all you need to recreate their look is mascara and liner, brown/neutral colored shadows, foundation, concealer, and lashes (optional).
Start with a clean face and apply concealer as needed. Add a light foundation or tinted moisturizer as well.

Take an eyebrow pencil or an angled eyeshadow brush for a more natural look in a color slightly darker than your hair and fill in your brows. Use light short strokes to carefully define your eyebrows and gradually make them as bold as you would like.

Take a deep brown shadow and brush it along your lower lid. Blend out the brown to your crease with a medium shade brown with a hint of shimmer and a light color for your brow bone. You an go smokier and deeper with the shadows for more of a nighttime look.

Since the look is all about the eyes and the lips add black liner to your lower and upper lash line as well as 2-3 coats of mascara. False lashes will make your eyes pop and are great to experiment with.

Apply your lipstick directly to your lips, you may need a liner to stay inside your lip line or you can always use concealer. If your looking for a perfect line or want to change up your lip shape, use concealer to make your lips match your skin tone and "re-draw" the lines.
Now you have a dramatic fall perfect beauty look. If your really wanting to go all out you can even use a bronzer and define you cheekbones, but fo rht e daytime I would stick to the original 5 steps. Let me know if you try out the look, be sure to rock it!