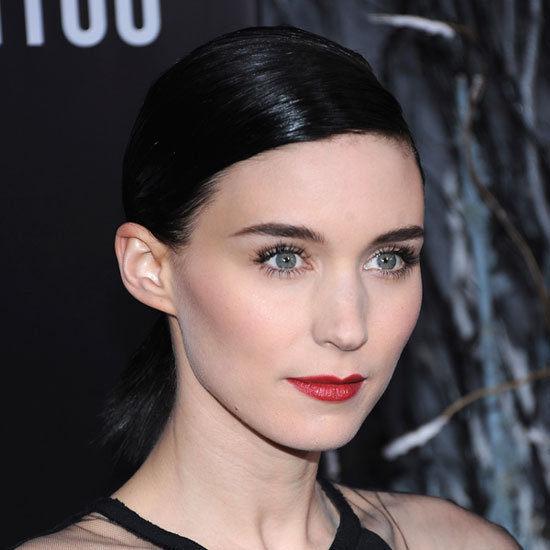 Rooney Mara is strikingly beautiful and I cannot stop admiring her peircing eyes. I love that she does not dress super sexy or try too hard to stand out. Rooney's entire look is very edgy, unique, and even mysterious. Her porcelain skin, red lips, and wispy eyelashes really make me want to recreate her look.
Start off with a clean face,we want our skin to look really nice for this beauty look. Apply concealer as neccessary.

Apply foundation and make sure to blend it into your skin. Set your foundation with powder matching your skin tone.

Take a light blush in a sheer red color and brush it along your cheeks into your temples. Make sure to contour.

Prime your eyelids so your eyeshadow will stay in place. Take a white eyeshadow and brush it onto your brow bone and even a little bit into your crease.

Lightly line your tightline with black liner and apply black mascara to both your top and bottom lashes. Now is the time to add long, wispy false eyelashes if you would like.

Place primer on your lips, it will help your lipstick stay on longer and increase the color. Apply your red lipstick in a shade that fits you.

Slick your hair back out of your face to show off your make-up look.
Now you have the edgy, gorgeous make-up look like Rooney Mara. Remember practice makes perfect and to be patient. Even change some steps so it works specifically for you. Try it out chicas!